Cambridgeshire busway crash: 'No defect' in vehicle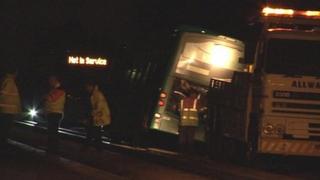 No defect was found after a bus crashed on the guided busway in Cambridgeshire, its operator has confirmed.
The bus left the tracks at Longstanton on 20 November, leaving it at a 45-degree angle.
Stagecoach said the driver, who was treated for shock, had been "seen under disciplinary procedures" at the firm, but would not confirm the outcome.
Managing director Andy Campbell said people were "100% safe" on the busway.
The company previously said it thought the driver had misjudged an entrance to the busway, causing it to leave the tracks.
No passengers were injured in the crash, but it damaged the tracks and forced speed restrictions to be put in place around the area.
The concrete-tracked busway opened last year and runs services between Huntingdon and Trumpington, south of Cambridge.
The route, which includes 13.3 miles (21.5km) of guided concrete track, is believed to be the longest in the world.