Patient directed 'lost' ambulance to hospital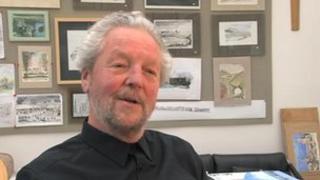 A retired Cambridgeshire architect bleeding from the head waited an hour and a half for an ambulance that then got lost taking him to hospital.
Ian Taylor, from Little Shelford, had fallen and hit his head on a radiator valve 24 hours earlier.
His GP treated the wound, but after returning from a golf club dinner on 30 November Mr Taylor found the wound had reopened so he called an ambulance.
The East of England Ambulance Service has apologised for all the delays.
Mr Taylor said: "I had told the doctor I was going to the dinner when I went to the surgery and he did not object.
"But when I returned home - I live alone - before midnight I felt my head and it was wet with blood.
"Rather than waking neighbours or family at that time of night - it was 23:45 GMT - I decided to call an ambulance."
Empty ambulances
The ambulance came from Hertfordshire and was a Thames Ambulance Service vehicle operated by a private company from Canvey Island, Essex.
"The crew said they would take me to Addenbrooke's Hospital which takes me about 15 minutes by bike to reach or about an hour on foot.
"After what seemed an age I asked what was going on. The technician asked the driver who said he was lost and his sat-nav was not working," Mr Taylor said.
"We drove around villages till I recognised a pub and was able to direct the ambulance from there.
"When we arrived there were three empty ambulances waiting and I wondered why one of these was not used.
"I have now received a letter of apology from the ambulance service and accept their explanation.
"But have also written to my MP who is (former) Health Secretary Andrew Lansley but I'm waiting for an answer."
External providers
The East of England Ambulance Service said it received the call at 23:43 GMT and it was coded Green 4 which is not life-threatening and requires a response or phone assessment within 60 minutes.
EEAST said the patient was fully conscious and was advised not to drive to hospital but to wait for the ambulance.
The crew arrived at the scene at 01:20 GMT.
EEAST confirmed Thames Ambulance Service was sent to Mr Taylor's address from the Letchworth area in Hertfordshire.
Spokesman Gary Sanderson said: "We do our very best to get to patients within the appropriate timeframe, but sometimes this is a challenge if we're very busy elsewhere with more serious cases such as cardiac arrests, strokes and unconsciousness.
"The trust is however currently planning resources better to fit in with where and when demand lies in an effort to improve response times."
The trust said it used external ambulance providers to help support its resourcing and to cope with highly volatile demand levels.