Cambridge cat has head and tail cut off in attack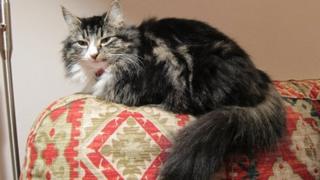 A cat has had her head and tail cut off after being beaten in a "shocking" attack in Cambridgeshire.
The four-year-old pet, called Lulu, went missing from her home in Hurst Park Avenue, Cambridge.
But she was found four days later in a neighbour's garden which backs on to a field.
Owner Steven Bunkhall said he initially thought the pet had been savaged by a fox but a visit to the vet confirmed the "shocking" attack.
Mr Bunkhall said: "When we found her we took her to the vet to be sure it was her, as she had a microchip.
'Didn't seem right'
"At first we thought she'd been taken by a fox, but the injuries didn't seem right, so we asked the vet.
"It was shocking, absolutely shocking."
Mr Bunkhall, who decided to publicise the attack, said the vet had confirmed the pet had been "severely beaten".
Nor was it likely the cat had been injured in a traffic accident because the garden she was found in is not near a road.
He said: "I hoped to deal with it via the police, but as no one knows who did it I'm now asking for anyone who heard something or knows anything or has heard of a similar attack to please contact the police.
"I have never heard of anything like this, and neither had the police officer who came around, nor the vet."
The cat's body was found in a neighbour's garden on 17 November, police said.