Peterborough house car crash: Two men charged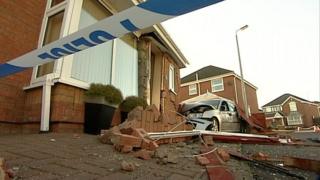 Two men have been charged after a car crashed into a house in Peterborough.
The car smashed into the Framlingham Road property about 00:30 GMT on Thursday.
A woman was in the house at the time of the crash but was not injured. Surveyors will now decide whether the building needs to be demolished.
One man is accused of having no licence or insurance and drink driving, the second with allowing the car to be driven without insurance or a licence.
Both men are aged 32 and from Peterborough. They are due before the city's magistrates on 13 December.
House owner Mike Brown said: "I've been working away from home. My wife rang me to say a car had come into the house, which was a bit of a shock.
"We're trying to find out how quickly we can get back in and what we can do in the interim - it's for sale too at the moment believe it or not."
In addition to striking the house the car also demolished 20ft (6m) of fence, said a neighbour.