Cambridgeshire flood: Stuck driver 'went around barrier'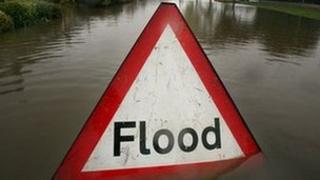 A driver who ignored a flood warning sign on a road in Cambridgeshire had to be rescued by a specially trained crew.
Fire engines were called to Earith after reports a vehicle was stuck in water flooded from fenland known as Hundred Foot Washes.
The driver had gone around a road closed sign and a barrier across the road near the bridge in Earith, a fire service spokeswoman said.
Specially trained "water crew" firefighters dealt with the incident.
This was the second incident in the area and took place at about 04:00 GMT.
Earlier a vehicle had ventured into deep water and got stuck but the occupant got out on his own although the fire service attended, the spokeswoman said.
Cambridgeshire Fire and Rescue Service is urging people to stay safe on the roads and follow diversion signs.
Flooding reported at Wansford, Whittlesey and Earith is now easing, the Environment Agency said.
Flood warnings remain in place along the River Nene and Ouse in Cambridgeshire and the agency is urging people to check their website for updates.