Peterborough travellers' site shooting: Second charge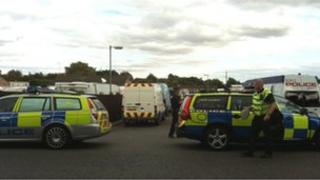 A 23-year-old man has been charged in connection with a shooting a Peterborough travellers' site.
John Smith, of Edgerley Drain Road, Peterborough, has been charged with three counts of grievous bodily harm with intent after the shooting at Oxney Road in the city in September.
Three men suffered gunshot wounds, with two being treated for serious injuries.
Mr Smith, also known as Fred, was due to appear at Peterborough Magistrates' Court.
Another Fred Smith, 46, also of Edgerley Drain Road, was charged last month with possession of a firearm and three counts of wounding with intent.
Thomas Holmes, James Holmes and Tony Draper were injured in the alleged shooting.