Sally McGrath murder: Paul Taylor found guilty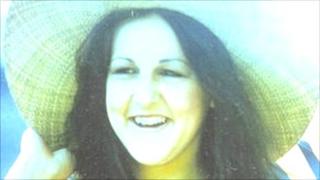 A 60-year-old man has been found guilty of murdering a Peterborough woman more than 30 years ago.
Former soldier Paul Taylor, of Fareham, Hampshire, was charged with the murder of Sally McGrath, 22, after a cold case review which started in 2009.
Her body was found in a shallow grave in woodland at Castor Hanglands, Cambridgeshire, in March 1980.
Taylor was also convicted of sex attacks, including rape, on three other women in the months before the murder.
Miss McGrath was last seen alive on 11 July 1979 at a Peterborough hotel with Taylor, Chelmsford Crown Court heard.
The jury found Taylor guilty of murder following 23 hours of deliberation.
He was also found guilty of three counts of rape, one attempted rape and a serious sexual assault, which were all committed in the months leading up to Miss McGrath's murder.
The offences related to three different women.
'Womanising' builder
Taylor was only charged with Miss McGrath's murder last year following a fresh three-year investigation. Earlier inquiries had failed to gather sufficient evidence against him.
By the time he was re-arrested, Taylor had built a new life away from Peterborough where, his trial heard, he had been known as a "charismatic and womanising" builder.
The ex-soldier moved to Fareham, Hampshire, with his wife Beverley where the couple ran a fish and chip shop and raised a family in the town.
Det Supt Jeff Hill, who led the latest investigation, said: "As a result of this inquiry we have already considered what other offences may have been committed by Taylor.
"Given the nature of the offending there is every chance similar crimes have occurred that we just quite simply don't know about.
"As such, it is not beyond the realms of possibility that there are further victims of rape and other serious sex crimes who have never reported matters to the police."
'Compelling evidence'
Mr Hill said the passage of time complicated the cold case investigation, but the team decided there could be witnesses who could help prove Taylor's involvement.
"Raking up events of over 30 years ago for friends and relatives of Sally was particularly difficult," said Mr Hill.
"Many of Taylor's victims had to relive horrendous experiences which they had pushed deep into the back of their mind."
He added: "We were delighted when those key witnesses not only provided us with a comprehensive recall of the offences going back to the 1970s, but also provided us with additional compelling evidence of the events at that time."