Conservative MP Stewart Jackson criticises PM over UKIP views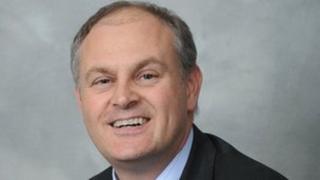 Tory MP Stewart Jackson has been recorded criticising the "pathetic language" of his party leader and Prime Minister David Cameron and saying he has considered joining UKIP.
The Peterborough MP made the comments at a UK Independence Party (UKIP) meeting last week.
He criticised Mr Cameron for calling UKIP supporters "closet racists".
In response to the revelations, Mr Jackson said it was vital not to "close your mind" to other points of view.
The MP, who has warned the Conservatives that they face a threat from UKIP, told last Thursday's meeting at Copeland Community Centre, Bretton, Peterborough, that he had no plans to defect, but that he agrees with everything they stand for.
A recording was made for minute-taking purposes which has been heard by the BBC.
On the tape, Mr Jackson says: "I believe I can do more within the Conservative Party to advance the cause of Euro-scepticism, to give this country back self-government and parliamentary sovereignty and all the things we passionately care about, than to jump out into the unknown as one UKIP member and lose the impetus.
"That doesn't mean I call you gadflies and closet racists and fruitcakes. That was very disrespectful and I completely disavow that kind of pathetic language from my party leader (in 2006) but I think that we have a job to do and we can work together."
On whether he would join UKIP Mr Jackson said: "If you ask me have I ever considered it, of course I have and many, many MPs have. I have had lunch with Stuart Wheeler (UKIP treasurer and former donator to the Conservative Party who was expelled in 2009) six months ago and he asked me and I said I would think about it."
'Concern over migration'
He also expressed concern over "uncontrolled migration", saying: "I'm filled with horror at the idea of the floodgates opening in Romania and Bulgaria and I'm trying to fight that case."
After the recording was made public, Mr Jackson told the BBC: "I was invited by constituents to come to their meeting and field questions and that's what I did. It was an open public meeting and I spoke with them, as I would any group.
"Many years ago Brian Mawhinney (former Conservative cabinet minister and Peterborough MP), my predecessor, spoke to a group of the Fabian Society (a left wing think tank associated with the Labour Party) and he didn't defect to the Labour Party. If you close your mind and refuse to meet with people you don't get a full view of their fears, concerns and their outlook."
John Peach, Peterborough Conservative Association chairman, said there was no possibility of Mr Jackson defecting to UKIP.
He said: "If you ask most members in Peterborough and across the region most of us are Eurosceptic and we want a referendum."