Cambridgeshire guided bus crash damages tracks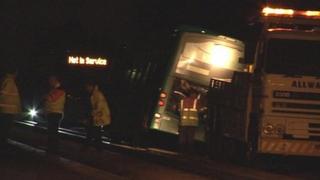 A speed restriction has been put in place on part of a Cambridgeshire busway damaged by a bus that came off its tracks.
Stagecoach said the bus was heading towards St Ives when it left the tracks, at Longstanton on Tuesday.
The bus blocked both tracks at the busway entrance, causing delays. The driver was treated for shock.
Stagecoach said repair work would be carried out at the weekend and it was investigating how the crash occurred.
The company said it thought the driver had misjudged the entrance to busway, causing it to leave the tracks.
The bus was left at a 45-degree angle across the entrance, before being recovered from the scene a few hours later.
'World's longest'
No passengers were injured.
Stagecoach said services had returned to normal, but the speed restriction would be in place around the area of the accident until repairs could be carried out.
The firm's managing director Andy Campbell said the tracks would likely be repaired overnight during the weekend to minimise disruption.
Graham Hughes, Cambridgeshire County Council's director of strategy and development, said: "I can assure passengers that the busway has been designed very well and with safety in mind and they should continue to use it."
The concrete-tracked busway opened last year and runs services between Huntingdon and Trumpington, south of Cambridge.
The route, which includes 13.3 miles (21.5km) of guided concrete track, is believed to be the longest in the world.