Yaxley falling branch death: Parent's tribute to 'beautiful girl'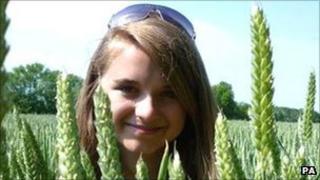 The parents of a 13-year-old girl killed by a falling tree branch in a Cambridgeshire park have spoken for the first time of the loss of their "beautiful girl".
Sophie Howard was sitting on a bench at a recreation ground in Yaxley when she died on 30 June last year.
The family has reached an out-of-court settlement with Yaxley Parish Council which was responsible for the tree.
Parents Laura and Martin Howard called on councils to learn from the death.
Mr and Mrs Howard, from Yaxley, said: "The last 16 months have been horrendous as we've struggled to come to terms with the fact Sophie is no longer with us.
'High risk'
"She was a beautiful girl with her whole life ahead of her but this has been taken from her and it is heartbreaking. Her loss to us is immeasurable, and our grief endless.
"At first it seemed a tragic case of fate or wrong time, wrong place, but sadly after the coroner's inquest it became apparent that this was not the case.
"We were horrified when we heard the Health and Safety Executive's report found that Yaxley Parish Council was not following the health and safety guidelines for risk assessments and maintenance in public places and that almost 30 other trees were in a hazardous condition.
"We just hope councils across the country take note and learn from the mistakes that led to Sophie's death."
At an inquest held in Huntingdon in December, coroner David Morris recorded a narrative verdict after he was told 11 trees in Middletons Road recreation ground were found to be a "high risk" hazard that required immediate removal.
Speaking at the inquest, David Youles, chairman of Yaxley Parish Council, said that before the accident the authority had relied on the "common sense" of staff and members of the public to identify trees which posed a risk.
He said that since the incident all staff had been given training and checks had been stepped up. The tree has been removed and others cut back.