Ely council plans parking fees despite opposition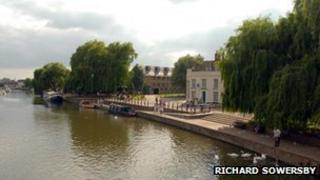 A Cambridgeshire city could introduce car parking fees, despite thousands of people opposing charges.
Last year, more than 12,000 people signed a petition against an earlier proposal to bring parking fees to Ely.
The City of Ely Council and East Cambridgeshire District Council have now drawn up new plans which they say address the concerns raised.
The councils' proposal is that drivers can park for free for the first hour and will be charged thereafter.
Under the new plan, drivers would be charged between 70p for two hours of parking and £2.50 for an all day ticket.
'Out of touch'
A 12 week consultation on the proposal will begin on 10 December.
Councillor Peter Moakes, chairman of the development and transport committee at East Cambridgeshire District Council, said the new plans addressed concerns raised in the petition.
He said: "It was clear our plans... did not create a steady flow of shoppers and visitors to our local retail businesses, provide an element of free parking, nor outline what would happen to the income we got from parking fees.
"We have tried to be fair to everyone by offering the first hour of parking for free, keeping the costs for short, long stay and weekly parking low."
Andrew Olley, from the Ely Traders' Association, described the councils as "out of touch".
He said: "Tesco is about to expand in an out-of-town retail park with 1,000 free parking spaces.
"There couldn't be anything worse at this time, when businesses nationally as well as locally are under threat, as to introduce parking charges to the city centre."