Cambridgeshire PCC poll: Candidate quits as magistrate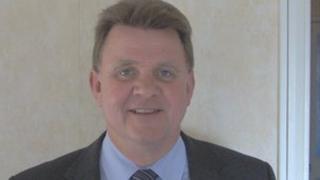 A police and crime commissioner candidate in Cambridgeshire has resigned as a magistrate after being told he faces an investigation for allegedly using his position in the courts to promote his election campaign.
United Kingdom Independence Party (UKIP) candidate Paul Bullen had also been warned he faced suspension if he did not step down as a magistrate.
The Advisory Committee on Justices of the Peace in Cambridgeshire (ACJPC) wrote to Mr Bullen telling him that his comments on the criminal justice system had been inaccurate, suggested political bias and could lead to a lack of confidence in the judicial system.
An ACJPC letter to Mr Bullen says Mr Bullen is quoted in local newspapers saying the criminal justice system is "too weak on criminals".
The letter says he is also quoted saying judges are "left-leaning" and the Human Rights Act is a "travesty of justice" which does nothing to protect the public or victims.
In a statement, Mr Bullen, who has been a magistrate for almost 14 years, denied the timing of his resignation was electioneering.
He said he believed in freedom of expression and said he was not prepared to remain silent.
Mr Bullen said in his resignation letter: "I confirm that I have tendered my resignation as a magistrate to the advisory committee.
"It is with a heavy heart that I have had to make this decision and, as discussed, I am sure that you realise that I really had no other choice."