Rimas Venclovas: 'No issues' over no charge for 'attack'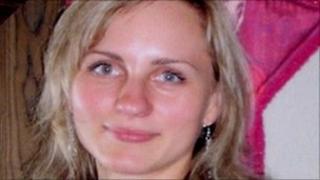 A decision not to charge a man for an alleged attack on the ex-wife he later murdered raises no issues, the Crown Prosecution Service (CPS) has said.
Rimas Venclovas, 47, was jailed for life on Monday for the kidnap and murder of Vitalija Baliutaviciene in Peterborough in August 2011.
It emerged during his trial that he had been arrested but not charged in 2010.
The CPS said there was insufficient evidence and was satisfied following a review of the decision.
Miss Baliutaviciene, who had started a new life in Peterborough, had made an allegation of assault to Cambridgeshire Police in July 2010.
Venclovas then left the UK for his native Lithuania, with efforts made to trace him, Cambridgeshire Police said.
He was arrested on his return to the UK that September, but not charged.
'Fled the country'
"After reviewing all the evidence, we advised there was insufficient evidence for a prosecution," a CPS spokeswoman said.
"This decision has since been reviewed internally and we have no issues with the initial decision."
Police received a second complaint of assault in February 2011, with Venclovas arrested the following day.
A charge of battery was authorised by the CPS.
"He was released on bail to return on February 16 when he had been due to be charged," a police spokesman said.
"However he failed to appear and he fled the country again.
"He would have been aware he was wanted and likely to be arrested on his return to the UK, as had happened in September 2010, so changed his name, appearance and vehicle in order to come back into the country under the radar and avoid being arrested."
The CPS said Venclovas had no previous convictions for violence and no previous convictions in the UK.
But, six months later, the "obsessed" and "jealous" Venclovas kidnapped his ex-wife, strangled her and drove her body to Poland.
Her body was found in a shallow grave in October, but it took a further four months for her to be formally identified.
Venclovas was told he must serve a minimum of 20 years.