Man who put cat in tumble dryer jailed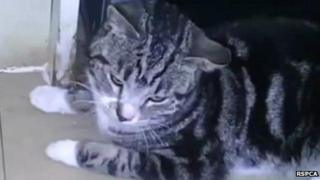 A man who put a cat in a tumble dryer, turned it on three times and put the video on YouTube has been sentenced to 56 days in prison.
Allan Staughton, 23, of Saunders Close, Huntingdon, Cambs, admitted causing unnecessary suffering to the cat and was banned from keeping animals.
Staughton put his ex-girlfriend's cat Princess in the machine, saying, "Shall we go and see Mr Tumble?"
The cat injured its tongue and broke a tooth, and has since been rehomed.
Staughton filmed the cat at his former home in Godmanchester.
'Form of torture'
The video was brought to the attention of the RSPCA and removed from YouTube. The RSPCA described it as "a wicked crime".
Staughton told inspectors he thought the incident was funny when first questioned about it.
However, vet Helen Dennis told the court the cat would have been "severely traumatised" by the ordeal.
The presiding magistrate at the Huntingdon court, Celia Chignell, said: "We see this as a form of torture which is reinforced by the vet's report."
Kevin Warboys, mitigating, said his client was obsessed with children's television and had attention deficit-hyperactivity disorder (ADHD), although he added this was not a "rational explanation" for Staughton's actions.
RSPCA inspector Chris Nice welcomed the verdict, and said: "We were hoping he would get a lifetime ban, and that is exactly what has happened."