Cambridgeshire PCC election: Privatisation concerns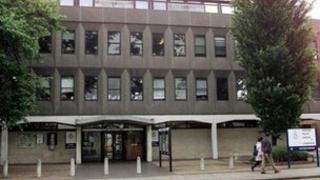 Candidates in the Cambridgeshire police and crime commissioner (PCC) election have clashed over the role of privatisation.
Cambridgeshire Police, with Bedfordshire and Hertfordshire police forces, has been looking at the option of giving some office work to G4S.
The plans were reviewed after the criticism faced by G4S after it failed to provide enough security guides for the Olympics.
G4S has said that its policing support division is "entirely separate" to its events business which managed the Olympics contract.
In August, the forces said they would look at developing a business case which would see G4S supply services including IT and human resources.
But this is likely to be looked at again after the PCC elections, as many candidates for commissioner in the counties have expressed concerns about the plan.
'Shareholder concern'
Independent candidate Ansar Ali said: "I am not entirely in favour of privatisation. Outsourcing can be looked at, but there may well be ways to deliver public services. I'm Also looking at how to utilise the voluntary sector.
"My first and foremost priority is to deliver an effective policing service, not profit for shareholders."
Conservative candidate Sir Graham Bright said: "I am not opposed (to private sector involvement) but I would want to look at it very carefully. I would want to be absolutely assured that if anything is handed over that it is safe and going to be delivered without problems."
He said he would like to see if the same savings could be made by sharing services with other authorities.
United Kingdom Independence Party candidate Paul Bullen said: "I am against privatisation. I do not see how proper safeguards can be put in place to protect data on the national computer."
He said the other problem with private firms is that "if you want them to do extra (not in the contract) that is when you get stung and the contract can end up costing much more".
English Democrats candidate Stephen Goldspink said: "I am not in favour of privatisation. I have managed outsourced contracts and as soon as they get the job they take their eye off the ball.
"The only way to cut costs is cutting staff, so (with outsourcing) you are effectively saying: We don't mind if you cut staff."
Independent candidate Farooq Mohammed said G4S's role in the Olympic security debacle did not fill him with confidence about outsourcing or privatisation of police functions.
"The private sector or G4S are satisfying their shareholders, they do not have the public's interest at heart," he said.
Liberal Democrat candidate Rupert Moss-Eccardt said when it came to outsourcing parts of the police the important thing to to "get the right people doing the right job".
"I am very clear everybody being paid by the authority from the council tax will be under my control. If they do something wrong they are accountable to the police and to me," he said.
Labour candidate Ed Murphy said: "There should be no involvement by private firms in policing. Police work with victims, we don't want private companies having access to confidential police data. The service should not be run for profit. Policing is not for profit."