Louis Smith look-alikes raise funds for Huntingdon gym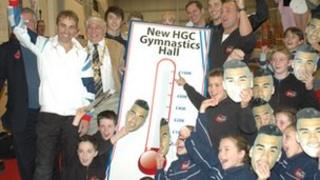 Gymnasts at a Cambridgeshire club donned Louis Smith masks to kick-start a campaign for better facilities.
Olympic medallist Smith, 23, trains at Huntingdon Gymnastics Club which hopes to raise £100,000 towards a new hall.
Organiser Rob Yates said: "We're looking at huge numbers on the waiting list after the Olympics and we really need to expand to cope with demand.
"Louis would be here to help but he's a bit tied up with Strictly Come Dancing, so we're making do with masks instead."
'The next Louis'
Before the Olympics the club was averaging 30 to 40 bookings a week for its children's taster sessions, but that surged to sessions for 170 children shortly afterwards.
Mr Yates said: "The building's old and a bit decrepit, so we need to expand to really push the future of gymnastics.
"It's a great opportunity to carry on from the Olympics and create a real legacy for Huntingdon and British gymnastics."
The 30-year-old gym is already at capacity, with elite athletes training alongside mother and toddler groups.
Tracy Crosland from the club, said: "We've taken over 500 telephone calls recently, mainly from little boys wanting to be the next Louis.
"We desperately need more space to allow some of them to try."