Mettle Hill traveller site looks set to reopen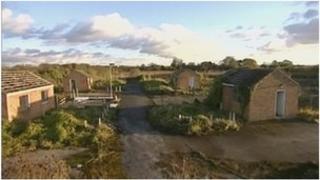 The reopening of a travellers' site in a Cambridgeshire village that had been fiercely opposed looks set to go ahead.
South Cambridgeshire District Council wants to open up Mettle Hill in Meldreth, which closed in 1996 as a result of public disorder issues.
At a cabinet meeting on Thursday evening councillors supported the plans to buy and reopen the site in order to meet traveller needs.
On Tuesday 500 people attended a meeting to protest against the plans.
The proposal will now go before a full council meeting on 22 November.
'In despair'
Meldreth resident Heather Williams was one of hundreds of residents who was at Thursday's cabinet meeting.
She said: "It was a packed meeting and we went over there in coaches. There were more people standing than there were sitting.
"But last night we were just in despair. South Cambs just isn't listening."
But Joseph Jones, from the Gypsy Council, said the proposed reopening of the Meldreth site was good news for Gypsies and travellers.
"We welcome the reopening of that site or any other reasonable site, because Cambridgeshire in particular needs to find more Gypsy and traveller sites... they've got to do something."
The council currently manages two travellers' sites and has 35 Gypsy and traveller families on its waiting list.
Government funding of £500,000 to develop Mettle Hill was secured in a joint bid with Cambridge City Council enabling the land to be bought by the district council (SCDC).
'Best option'
If the deal is agreed, the council says it will carry out a "detailed consultation" so that community concerns could be addressed.
Mark Howell, cabinet member for housing, said: "Delivering a new site anywhere in south Cambridgeshire is never going to be easy, but Mettle Hill has been used as a travellers' site in the past and we believe it is the best option to meet our legal obligations to provide sufficient accommodation for travellers currently living in the district.
"Residents are frequently frustrated when travellers pitch up illegally on public and privately owned land around the district and this site aims to alleviate some of this costly problem."
An independent report in June said 20 extra pitches would be needed in the district up until 2031 to meet the council's legal responsibility to provide sufficient housing for travellers.