Cambridgeshire councillor's apology for 'stupid Gypsy joke'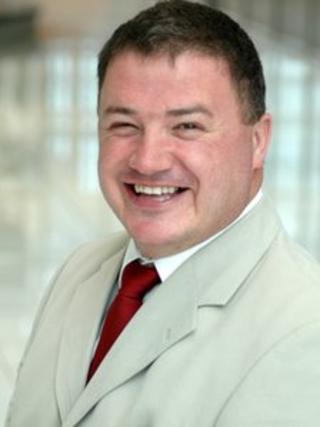 A councillor considering plans to reopen a Cambridgeshire travellers' site has apologised for sending an email which disparages Gypsies.
Mark Howell, of South Cambridgeshire District Council, sent the "joke" anti-Gypsy road sign picture containing a term of abuse to friends six years ago.
Mr Howell, a Conservative, said: "It was a stupid thing to have sent."
The cabinet member for housing and his colleagues are due to consider plans to develop the site in Meldreth later.
As well as including the image of the road sign, Mr Howell also questioned whether the county council would use the signs on its road network.
He wrote: "Do you think the county will order some?"
A council spokesman said it had been made aware of the email and added: "It is unlikely in these circumstances that any action in respect of breach of code of conduct will be taken by the council."
'No-go zone'
Mr Howell said: "The email from more than six years ago was nothing more than a private joke between friends in the independent group I was a member of at the time, which is now being used for nothing more than political gain.
"Anyone who knows me will know I do not support the views contained within it, and have worked tirelessly for all residents since becoming a councillor.
"In hindsight, it was a stupid thing to have sent and I can only apologise if anyone takes offence."
Mr Howell and other cabinet members will meet later to discuss their plans to reopen and run the former travellers' site in Meldreth.
The council said the scheme would help meet its obligations to provide sufficient traveller accommodation.
In a joint bid with Cambridge City Council, it has already secured government funding of £500,000 to purchase and develop the land.
The proposal has been opposed by residents of Meldreth and surrounding villages, as well as travelling showpeople who own a site in the village.
Mettle Hill closed in 1996 as a result of anti-social behaviour and public order issues and residents have raised concerns that it will once again become a "no-go zone".
On Tuesday almost 500 people attended a meeting to protest against the proposals.
If the plans are supported at the cabinet meeting, they will be voted on at a full council meeting on 22 November, although some residents have expressed a wish to purchase the land themselves to prevent the site from being developed for travellers.