Addenbrooke's Hospital rejects DNR Janet Tracey case claims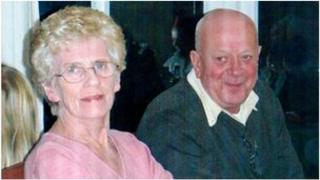 Allegations that "do not resuscitate" (DNR) orders were unlawfully put on a woman's medical notes are "unsound and unfair", the High Court has heard.
David Tracey made the claims against Cambridge University Hospitals Trust after the death of his wife in 2011.
Mr Tracey said two DNR notices were written without his wife Janet's knowledge or consent.
The hospital has told a factual dispute hearing that staff were acting in Mrs Tracey's best interests.
Mrs Tracey, a 63-year-old care home manager and a mother-of-four, died in March last year following a transfer to Addenbrooke's Hospital in Cambridge. She had broken her neck in a car crash on 19 February and had recently been diagnosed with terminal lung cancer.
The hearing was told that the first DNR notice, on 27 February, was cancelled on 2 March after Mrs Tracey and her daughter objected. A second notice was imposed on 5 March, two days before she died.
Mr Tracey told the court he had to comfort his wife who believed staff "were trying to get rid of her", and claimed she was being "badgered" into making a decision about resuscitation options.
'Not a little angry'
"It was my wife's wish, she did not want a DNR," he said. "She was quite clear, and it was not my decision to make, it was hers. It was her life."
Mrs Justice Nicola Davies is hearing evidence to determine issues of fact before a full judicial review in February, which will seek to clarify whether there is a legal duty to inform patients with capacity whether a DNR has been placed on their notes and whether they have any right to be consulted about it.
The hospital trust claims a decision to impose a DNR is a matter of clinical judgment in which appropriate weight should be given to the views of the patient and family.
The trust maintains there was full consultation with both Mrs Tracey and a daughter about the first DNR, which was then cancelled, and the second was issued after discussion with three daughters and Mr Tracey, although Mrs Tracey did not wish to discuss it.
The trust's QC, Lord Faulks, said the doctors involved were dedicated professionals who often had to deal with difficult cases such as Mrs Tracey's.
"It is our case that these allegations are fundamentally unsound, unfair and strenuously denied by the clinicians," said Lord Faulks. "Although all the clinicians have considerable sympathy for Mrs Tracey's entire family, they are understandably hurt and not a little angry at the allegations that have been made against them."
The hearing continues.