Mettle Hill traveller meeting in Cambridgeshire attracts 500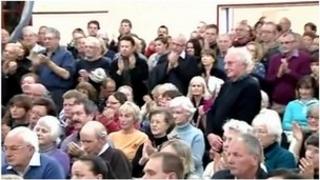 Almost 500 people attended a meeting on Tuesday evening to protest against proposals to reopen a travellers' site in a Cambridgeshire village.
South Cambridgeshire District Council plans to reopen Mettle Hill in Meldreth, which closed in 1996 as a result of public disorder issues.
Travelling showpeople who own a site in the village also oppose the plans.
The council said reopening it would help meet its obligations to provide sufficient traveller accommodation.
It currently manages two travellers' sites and has 35 Gypsy and traveller families on its waiting list.
Government funding of £500,000 to develop Mettle Hill was secured in a joint bid with Cambridge City Council enabling the land to be purchased by the district council (SCDC).
'Live in harmony'
Residents spoke of the area once again becoming a "no-go zone" and raised concerns about "open warfare between one lot of Gypsies on one side of the road and a different clan on the other".
One option discussed by villagers was purchasing the land themselves.
Resident Alan Tobin said: "It's not just people from Meldreth who are against this. It's the wider community.
"We have 23 showman sites opposite the proposed new site. We all live in harmony and this is going to bring a lot of tension into the village."
He added: "A lot of people said they were burgled when it was open before, and had cars set alight. The council says it can run the site properly, but what happens if it can't?"
Earlier this week Conservative MP for South Cambridgeshire, Andrew Lansley, backed opponents to Mettle Hill, saying it made "no sense" to put travellers opposite showpeople.
Mark Howell, the council's cabinet member for housing, said: "It is not the site that's the problem. It was the people who used to live there.
"We manage two other sites that run very well and we would use that experience to ensure Mettle Hill works equally well."
Joseph Jones, from the Gypsy Council, said: "If people have a valid objection to the site reopening on planning grounds, that's fine.
"But if they are simply saying they don't want any more Gypsies or travellers in the village, then that is racial discrimination and that is against the law. It's as simple as that."
If the plans are supported at a cabinet meeting on Thursday, they will be voted on at a full council meeting on 22 November.