Paralympians celebrated in Peterborough city tour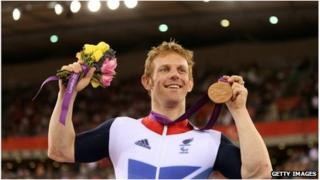 Three Paralympic athletes have been given a celebratory tour of Peterborough in recognition of their achievements.
Harriet Lee, 21, from Huntingdon, won a swimming bronze; Matt Skelhon, 27, from Stilton, won silver and bronze in rifle events and Jody Cundy, 33, from Wisbech, won a cycling bronze.
They visited schools in the city and met pupils.
The athletes later met the public at the Embankment sports arena.
Local Olympic torch bearers and Paralympic flame carriers accompanied the athletes on the tour.
'Wonderful celebration'
Harriet Lee, who won her medal in the women's 100m breaststroke, said: "I think everyone's outlook on disability sport has changed completely since the Paralympics.
"We're up there doing as well or better than able-bodied athletes and it's important we take this legacy forward and build on it."
She added: "I saw a little girl on a train the other day - she had nothing wrong with her - but she was saying she wanted to be a Paralympic athlete."
The tour was arranged by leisure and culture organisation Vivacity, and Peterborough City Council.
City mayor George Simons said: "This is the perfect opportunity for the city of Peterborough as a whole to thank our local athletes for representing the UK in the Paralympics this summer.
"It is a wonderful celebration of their hard work, sportsmanship and achievements."