Men jailed for Peterborough Coco's nightclub attack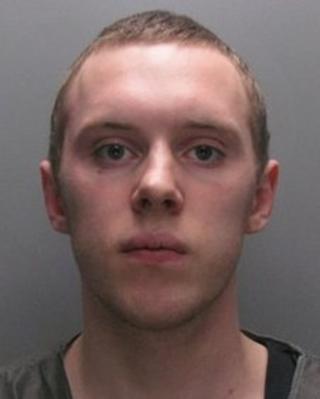 Five men have been jailed for an attack outside a Peterborough nightclub which left a man with life-changing injuries.
The 21-year-old victim and another man, aged 50, were attacked outside Coco's in Broadway on 21 May. Police said the younger man remains in care.
The five men had previously pleaded guilty to all offences, which an included a charge of affray against each of them.
They were jailed at Peterborough Crown Court on Monday.
Speaking after the hearing, Cambridgeshire Police said both victims had been taken to Peterborough City Hospital, with the 50-year-old discharged several days later.
The 21-year-old man was transferred to Addenbrooke's Hospital in Cambridge and remains in care after suffering life-changing injuries.
'Violent and sustained'
Deividas Matusevicius, 20, who also admitted two counts of causing grievous bodily harm, was jailed for 10 years.
Lukas Banys, 20, also charged with causing grievous bodily harm, received two years in prison.
Sarunas Galinas, 19, also charged with causing actual bodily harm, must serve 10 months.
Ricardas Bartos, 23, and 21-year-old Kestutis Baranauskas, 21, were jailed for nine months and seven months respectively for the affray charge alone.
All five are from Church Walk in Peterborough.
Det Con Mark Clapham said: "This was a violent and sustained attacked which has left a young man with serious injuries which he may never recover from.
"The severity of the mindless violence displayed by the men involved in this incident is reflected in the sentences given."