Addenbrooke's resuscitation policy scrutinised in High Court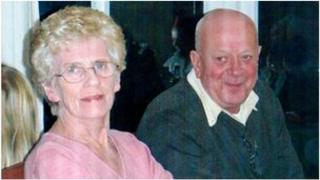 A hospital is under scrutiny in the High Court after a man alleged two "do not resuscitate" (DNR) orders were put on his wife's notes without consent.
David Tracey, 65, made the allegation against Cambridge University Hospitals NHS Foundation Trust.
The trust said a doctor did seek consent from Janet Tracey, 63, who was being treated at Addenbrooke's Hospital for lung cancer and a fractured neck.
The factual dispute hearing in London is expected to last 10 days.
Mrs Tracey, from Ware in Hertfordshire, was diagnosed with terminal lung cancer in February 2011.
She was later admitted to the Cambridge hospital after breaking her neck in a car accident.
'Public importance'
Her family claim she discovered a DNR order had been placed on her file on 27 February and successfully asked for it to be removed, but a second order was added on 5 March two days before she died.
They said it included the phrase: "The patient does not want to discuss resuscitation."
Mrs Tracey died two days later on 7 March.
The family also alleged notes were included saying three of her four daughters and her husband had agreed to the order, which they have disputed.
They said she expressed a clear wish to be involved and for discussions to be held when her husband was with her, but said no such conversation took place.
The family's QC, Philip Havers, told London's High Court that the case raised "real issues of real public importance".
Retired engineer Mr Tracey said that after his wife's cancer diagnosis there was talk of chemotherapy and a drug trial.
He was told by a doctor that if there were problems with ventilation being withdrawn, they would let her "slip away" but he was not aware of the first DNR notice until after it had been cancelled.
"At one point, she did say they were trying to get rid of her, and I didn't believe her. I just said, 'don't be so silly', which proved to be a mistake."
Clear-thinking woman
He reassured his shocked wife, who was in tears, that neither he nor their daughters agreed to the notice.
He said his wife was being "badgered" about making a resuscitation decision, but she did not want to discuss it any more.
"She just didn't want that to happen to her. I had rather they hadn't kept badgering her all the time," he said.
"They told her she had a 1% chance of leaving the hospital. What kind of thing is that to say to someone in hospital?"
Despite his wife's condition, Mr Tracey thought she might come through and the family wanted her moved to a hospice closer to home where they felt she would get better care.
He said: "My wife was a very clear-thinking woman. It was my wife's wish, she did not want a DNR. She was quite clear, and it was not my decision to make, it was hers. It was her life."
A full judicial hearing is scheduled for February.