Fitzwilliam Museum raises £4m to acquire Poussin painting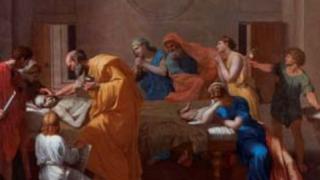 A Cambridge museum has raised the £4m needed to acquire a £14m painting described as a "national treasure".
Heritage Lottery Funding and public donations enabled the Fitzwilliam Museum and the Art Fund to secure Nicolas Poussin's Extreme Unction.
The 17th Century work was offered by the 11th Duke of Rutland's estate under a scheme allowing art to be given to museums in lieu of inheritance tax.
It will be on display at the Fitzwilliam from early December.
The painting, which depicts a dying man being anointed with oil in accordance with the rites of the early Roman church, has been displayed at the National Gallery in London for much of the fund-raising period, which began in mid-August.
'Dynamic campaign'
Under the terms of the government's Acceptance in Lieu scheme the full £3.9m had to be raised by early November.
A successful bid for £3,021,000 from the Heritage Lottery was bolstered by almost £1m in public donations.
The museum is planning a touring exhibition of the painting, together with talks and seminars, to museums and galleries around the country.
Dame Jenny Abramsky, chair of the Heritage Lottery Fund (HLF), said: "We were impressed with the Fitzwilliam and Art Fund's dynamic fund-raising campaign and their desire to seize the moment and secure the painting on behalf of the nation."
Dr Stephen Deuchar, director of the Art Fund, which assists museums and galleries to purchase works of art, said public generosity together with the HLF grant and support from the National Gallery had helped to "safeguard this masterpiece and bring it into the public domain."
Acting director of the Fitzwilliam, David Scrase said the museum was "extremely grateful" and "absolutely thrilled".
"Now this masterpiece will be available to all, transforming our existing collections at the Fitzwilliam," he said.