Peterborough murder accused Rimas Venclovas 'not violent'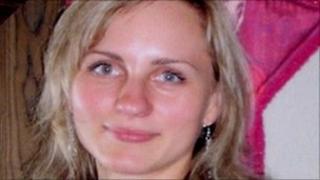 A man accused of kidnapping and murdering his ex-wife did not attack or threaten her before her death, a court has heard.
Rimas Venclovas, 47, had been arrested twice in Peterborough over alleged attacks on Vitalija Baliutaviciene, 29.
He denied trying to strangle her on one occasion and said marks on her neck were caused by someone kissing her.
Mr Venclovas denies kidnap and murder charges and is on trial at the Old Bailey in London.
Miss Baliutaviciene was last seen on CCTV being abducted on her way to work in Peterborough at 05:15 BST on 12 August last year.
'Getting on well'
At about 11:50 BST Mr Venclovas's van was caught on CCTV boarding a ferry at Dover.
Miss Baliutaviciene's body was found in a shallow grave in a field in western Poland on 30 October last year.
The prosecution said Lithuanian Miss Baliutaviciene had come to Peterborough to escape her obsessed, jealous former husband Mr Venclovas.
He had been arrested twice by police in Peterborough over attacks on her, the court heard.
Mr Venclovas was granted bail after the attacks but absconded to his native Lithuania each time, returning later to Peterborough, the jury was told.
He told the court he and Miss Baliutaviciene were "getting on well" at the time he was alleged to have kidnapped and murdered her.
He said he was not violent towards her and added: "I never threatened her."
The trial continues.