Calvin Lock 'happy to be alive' after drug allergy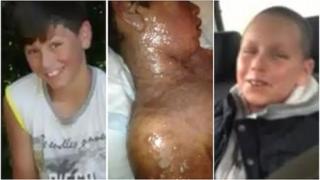 An 11-year-old boy said he was happy to be alive after an allergy thought to be caused by ibuprofen caused severe blistering and skin loss.
Calvin Lock, from Littleport, Cambs, was given Nurofen for Children by his mother to treat flu last month.
Five days later he woke with a burning ear and rashes on his face and stomach.
Doctors said he suffered a rare, severe reaction to the medication. Nurofen said skin reactions to ibuprofen were rare and it would investigate.
Robyn Moult said it was the first time her son had ever taken the medication when she gave it to him on 21 September.
Initially his rash had been diagnosed by his GP and doctors at Addenbrooke's Hospital in Cambridge as chickenpox.
A second hospital visit diagnosed Stevens-Johnson Syndrome (SJS) - a rare but severe allergic reaction to drugs.
His condition deteriorated and Calvin was moved into intensive care and put on life support for three days.
He was transferred to the burns unit of Broomfield Hospital in Chelmsford, Essex, where doctors diagnosed him as having Toxic Epidermal Necrolysis Syndrome (Tens), a more severe form of SJS.
Ms Moult said 65% of Calvin's skin and all his hair was removed, but after operations his condition improved and he began to eat and walk again. He is now home and is continuing to receive treatment.
Calvin said: "It looked like someone had beaten me up and threw me through a window, because all my face was cut and scarred.
"I'm happy that I'm here with my family and I'm happy still to be alive."
Ms Moult said she thought her son would die.
"It is like watching a horror movie. Watching when his skin started coming away, it was like a nightmare," she said.
Professor Naguib Ed-Muttard, in charge of Calvin's care at Broomfield Hospital, said cases of SJS and Tens were "extremely rare" with only two to three cases for every million people in Europe.
Dr Aomesh Bhatt, UK medical director at Nurofen for Children, said: "We are saddened to hear about this case and are contacting the family to ensure we ascertain the full details of this case as part of our normal reporting procedures for medicines."
A statement from Nurofen for Children added that allergic skin reactions due to ibuprofen and other child painkillers were extremely rare and it stated on the product's leaflet to stop taking the medicine and see a doctor if similar symptoms to Calvin's develop.
Calvin's family are planning to set up a charity to raise awareness of the rare allergy.