Wisbech death inspires anti-dangerous driving campaign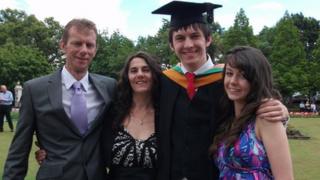 The family of a man from Cambridgeshire who died when he was knocked down by a speeding car is campaigning for tougher penalties for drivers who kill.
Jamie Butcher, 22, was killed crossing a road in Wisbech in 2011 when a driver ran a red light at 58mph.
In April, Michael Moore, 40, of Murrow Lane, Parson Drove, was convicted at Cambridge Crown Court of causing death by dangerous driving.
Mr Butcher's family said Moore's 43-month sentence is "totally inadequate".
Justice for Jamie
The psychology graduate was killed instantly on 20 February 2011 when Moore crashed into him on a pelican crossing, propelling his body 40m (131ft).
Mr Butcher had been working at a factory in Wisbech and was due to start a course in human rights at Manchester University that autumn.
Stepfather Steve Green said: "The guy who killed our son, he knew what he was doing. He was driving way too fast. He passed through a red light.
"You ask yourself, how bad does it have to get before a suitable sentence is passed in these cases?"
He expects Moore to be released from prison after serving two years, so the family has set up the Justice for Jamie campaign, calling for tougher sentence guidelines for drivers who kill.
'Life sentence'
The family's MP, Conservative Stephen Barclay, is backing them.
He said: "In the parliamentary question I submitted on behalf of Steve and Tina, the Ministry of Justice could tell us about only three cases where someone has got more than 10 years, so what was the point of Parliament increasing the maximum sentence to 14 years if no one ever gets it?"
The North East Cambridgeshire MP added: "The sentencing guidelines are actually preventing judges from imposing the higher level... and justice does not seem to have been done."
He has set up up an e-petition Stop Dangerous Drivers.
A spokesman for the the body which issues guidelines on sentencing, the Sentencing Council for England and Wales, said it did not comment on individual cases.
He added: "Guidelines set out a clear, structured approach to sentencing for a particular offence, taking into account all the relevant factors about the offence itself and the offender, while still allowing for judicial discretion.
"Sentencing guidelines should be followed, unless a judge or magistrate feels it is not in the interests of justice to do so.
"If a judge or magistrate believes that a guideline prevents the correct sentence from being given in an exceptional case, he or she can sentence outside the guideline."
Mr Green said: "For us it's going to be a life sentence. There'll be no more Christmas, no more birthdays, no family holidays to share together.
"It really has destroyed us and two years is just not a suitable punishment at all."