Huge halibut to feed more than 1,000 Cambridgeshire diners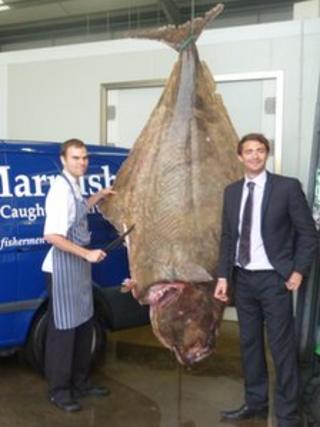 A fish large enough to feed more than 1,000 people has been bought by a Cambridge hotel.
The 186kg (410lbs) halibut was caught by haddock fishermen off north-west Norway and sold by Hertfordshire-based Marrfish Ltd to the Quy Mill Hotel.
Marrfish's Ben English said: "The fishermen said it was the largest they had landed in the last 20 years."
Andy Walker, head chef at the hotel, said staff had filleted it into more than 1,000 portions.
"We're also using the neck and cheeks, and the bones are going in a bouillabaisse," Mr Walker said.
Chef's challenge
"And we've got a lot of halibut specials on at the moment as well."
The catch is not thought to be a record breaker, with reports suggesting a 200kg (440lbs) halibut was caught in 2011.
The average halibut weighs between 11kg (24lbs) and 13kg (28lbs).
"It's a massive fish but we've a very busy restaurant," James Munro, Quy Mill's marketing manager, said.
"It won't take long to sell but we will freeze some of it to ensure it stays fresh.
"We're experimenting with a lot of different halibut dishes at the moment," he added.
Mr English said: "As soon as I was told the fish was available, I thought of Andy straight away. I know he's a chef who enjoys a challenge."