Peterborough jobs threat at council services firm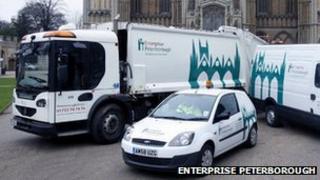 Up to 40 jobs could be lost at a company that provides Peterborough City Council with services including waste collection.
Enterprise Peterborough said it was consulting with a number of backroom support staff whose posts may be cut.
A spokesman said the move was intended to "simplify the company's structure" and improve efficiency.
Frontline services would not be affected and some support staff could be moved into those roles, he added.
Richard Oldfield, Enterprise partnership director, said: "We reviewed staffing levels in parts of our business that are dependant on securing work on capital projects and repairs and maintenance.
'Job security'
"These activities have been subject to reductions in the investment and spending plans of our clients and the challenges of growing new customers in a difficult market."
He said new technology introduced recently also meant the number of support staff could be reduced without affecting essential services such as waste collection, recycling and grounds maintenance.
He said he would be discussing possible redundancies with affected staff and their union representatives over the coming weeks.
Mark Burn, Unison assistant branch secretary for Peterborough, said: "We were told that outsourcing to Enterprise would give job security.
"I find it somewhat surprising that an organisation that made more than 40 staff redundant last year, has found another 40 'backroom' posts it could shed.
"What promise of jobs and growth does this leave us with?"
The company currently employs 481 staff.