Man sentenced for Peterborough MP Stewart Jackson attack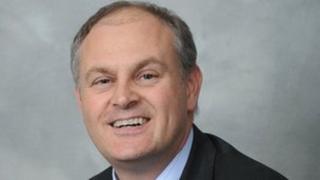 A man who kicked Peterborough MP Stewart Jackson and smashed a bus shelter has been given a 12-week jail sentence suspended for a year.
Ivan Karanovs from Sandford pleaded guilty to assault and criminal damage.
Peterborough Magistrates' Court heard how the 20-year-old acted "loutishly" in the Broadway area of the city on a Saturday afternoon in July.
Mr Jackson, who tried to make a citizen's arrest and was kicked, said the sentence was "inadequate".
Magistrate DJ Veits said the man's "loutish behaviour justified a custodial sentence" but Karanovs had worked hard to turn his life around.
Speaking to Karanovs who is Latvian through an interpreter, the magistrate said he had attacked someone who was being public spirited.
'Deported'
He did not know he was attacking an MP but it was deliberate anti-social behaviour against a member of the public.
The court heard that Karanovs had found a good job, had become a father and was staying "off the drink".
Mr Jackson had called the police after he intervened to try and stop vandalism to the bus shelter, the court heard.
The Conservative MP was assaulted during the incident on 28 July. The attack was witnessed by his wife and young daughter.
In response to the sentencing Mr Jackson said: "Ivans Karanova has put my family thorough a significant amount of anguish and distress and behaved with gratuitous violence to the police officers that arrested him, as well as local residents at the bus shelter in Broadway.
"There has also been a substantial cost to our judicial system.
"I believe the sentence is wholly inadequate and most right thinking people would think it appropriate for him to be incarcerated and thereafter deported from the United Kingdom.
"No wonder people are losing faith in the criminal justice system."