Hauxton homes plan hinges on decontamination report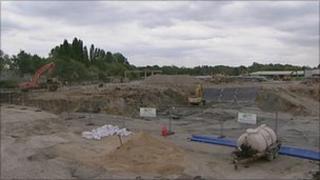 Almost 400 new homes could be built on previously contaminated land in Cambridgeshire if a six-month "clean-up" report is satisfactory.
Harrow Estates, the company responsible for decontamination work at the Bayer CropScience site in Hauxton, monitored groundwater samples for six months.
It has now submitted its report to South Cambridgeshire District Council.
Outline permission was granted in 2010 on condition the former agrochemical contamination was fully cleaned up.
The factory, established in Hauxton in the 1940s, produced pesticides and herbicides which were found to have contaminated the land.
'Successful remediation'
During work to clean up the site, residents complained about "noxious fumes".
However, the Environment Agency said doctors, engineers and scientists had investigated the odour and determined it had no effect on human health.
The final test results will be reviewed by the Environment Agency and council experts in consultation with the Health Protection Agency to ensure the land meets the required standards for building the new homes.
Councillor Nick Wright, the district council's cabinet member for planning, said: "We have always been very clear that no homes can be built until the developers demonstrate the land has been cleaned up to stringent standards - and that's why we asked for monitoring to be carried out for at least six months after the clean-up was completed.
"The process to assess the results is expected to take some time, but it is vital we are absolutely confident before homes are built."
Jennie Daly, managing director of Harrow Estates, said: "Although we are confident the remediation process has been successful, development will not commence until the regulatory bodies have had the opportunity to review the validation information and are satisfied the site is suitable for its proposed use."