Cambridge taxi driver startled by wallaby sighting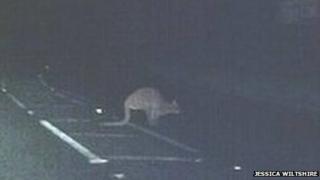 A wallaby spotted hopping down a Cambridgeshire road could be an escaped pet, a wildlife expert has said.
The animal was seen at about 03:00 BST on Tuesday by taxi driver Tamas Tarjan on the A603 at Barton.
Mr Tarjan said it was in the middle of the road and it was "the weirdest thing I've seen on a road".
The police were called and tracked the animal to a nearby garden but left it there on the advice of wildlife experts.
There are packs of escaped wallabies living wild in Buckinghamshire and Bedfordshire, but Rebecca Willers from Shepreth Wildlife Park said the animal was probably an escaped pet.
Moved into field
"Wallabies travel in packs and Barton is too far for it to have travelled from Bedfordshire," she added.
Mr Tarjan was taking three women home to Litlington when he saw what he first believed to be a deer in the middle of the road.
He said: "I pulled over, put on my hazard lights, got out of the car with my torch and at that time the kangaroo started to move into the field.
"One of the girls called the police, but they didn't believe her, so I called them and they sent out two cars within 10 or 15 minutes."
Cambridgeshire police confirmed the officers found the wallaby but it was "left on professional advice, including contacting the RSPCA and wildlife parks".
The police have contacted local wallaby owners in the area but none had reported a missing animal.
Mr Tarjan said: "It's the weirdest thing I've ever seen in a road, and not just in Cambridge."
In 2006 a driver told BBC Radio Cambridgeshire he saw a wallaby on a road at Oldhurst near Warboys.