Felix Baumgartner: Vital data recorded by Cambridgeshire company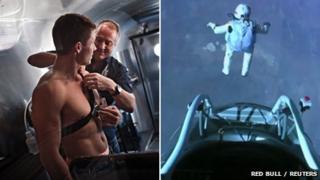 A Cambridgeshire company played a "critical role" monitoring Felix Baumgartner's vital life signs during the Austrian's record-breaking skydive.
Swavesey-based Hidalgo was asked by the Red Bull Stratos team to capture the data using its Equivital LifeMonitor.
It is thought information from the 38g (1.34oz) monitor strapped to his chest could help with space emergencies.
Mr Baumgartner, 43, became the first skydiver to go faster than the speed of sound at Roswell, New Mexico on Sunday.
Red Bull contacted Hidalgo about two years ago when the team was looking for companies that could monitor Baumgartner's physiology during the 128,100ft (24 miles, 39km) descent.
'Risky spin'
Andy Walsh, high performance director at Red Bull Stratos, said: "We needed to have a device that could withstand the extremes of the environments our athletes are exposed to but at the same time deliver research-quality data at a level we require.
"Specifically the team was able to measure, in real time, Felix's ECG, heart rate, heart rate variability, respiration rate, body temperature, body activity and acceleration using the Equivital LifeMonitor.
"This is the first time data on human dynamic, whilst travelling unaided at supersonic speeds, has been captured," he added.
Once analysed it would be shared with international scientists and researchers, including NASA, he said.
Anmol Sood, chief executive of Hidalgo, said: "I was as excited as everyone to watch that jump, but what we're really interested in is how data from a jump like this can benefit the wider population.
"When the spin happened just after Felix came out of the shuttle, that was a very risky time.
"When we get the data back from someone spinning at 83 miles an hour - and what happened to his body and his physiology - that will be a very, very useful data set."
Hidalgo team members were in touch with Red Bull Stratos members during the jump and they will work together to analyse the data.
"That's when we'll determine how it might help in aerospace medicine or sports science for example," Mr Sood said.
"It's a fantastic achievement for Felix and also for British technology and more specifically Cambridgeshire-based companies."