Fenland council fires all 14 planning committee members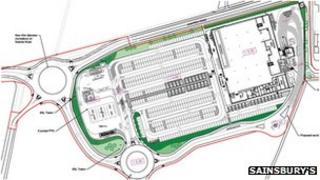 All 14 members of a Cambridgeshire council's planning committee have been ordered to stand down in a row over supermarket planning applications.
Following public consultation Fenland District Council members approved plans for a Sainsbury's in Whittlesey, rejecting an application from Tesco.
It later reversed its decision without consultation and also approved Tesco.
The council leader fired the committee after taking legal advice that its decisions may have been "unsound".
Both applications have now been "set aside" until a new planning committee is formed.
'Legal challenges'
Leader Alan Melton said: "The barrister informed us that member behaviour raised a number of issues, and that the reasons for the planning committee decisions were not substantial planning reasons with which to overturn officer advice.
"Subsequently, we were advised to take measures to mitigate the decisions.
"Something has gone seriously wrong and caused a lot of embarrassment to the council and to councillors, which is why we've taken advice from our counsel to re-run the whole process," he added.
Legal challenges to the decisions had been made by the applicants, said Mr Melton.
Vice-chairman of the planning committee, Councillor Martin Curtis, said: "I'm a little bit baffled by my sacking.
"I was told it was about 'community concerns' but I'd like to know where that's coming from, because it's not what I'm hearing."
A council spokesman said some former members of the committee would be able to re-apply for their positions following an investigation.
A spokesman for Sainsbury's, whose application was approved in August, said: "As there has been no change in our scheme...we do not understand why our application needs to be reconsidered.
"It should be allowed to stand as beyond reproach and should not be delayed any further to the detriment of both ourselves, and the residents of Whittlesey."
A Tesco spokeswoman said the company was disappointed, but added: "We will continue to work closely with the council's planning department and legal advisers to make sure the best decision is made for everyone."