Sally McGrath killing: Paul Taylor a 'sexual predator'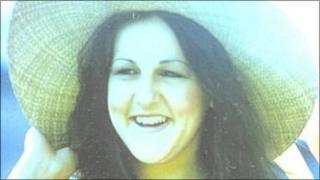 A 60-year-old man charged with murdering a Peterborough woman more than 30 years ago has been described in court as a "sexual predator".
The naked body of Sally McGrath, 22, was found in Wild Board Spinney at Castor Hanglands, Cambridgeshire, in March 1980.
Ex-soldier Paul Taylor, of Fareham, Hampshire, denies murder.
Chelmsford Crown Court heard Mr Taylor was an "engaging flirt and a ladies' man".
Mr Taylor, originally from Peterborough, also denies three charges of rape, one of attempted rape, one of another serious sexual offence and one of indecent assault.
The alleged sexual offences relate to three different women.
'Obsessed'
He insisted during a police interview that his relationships were always consensual.
Prosecutor Karim Khalil QC said: "In the 1970s he was a reasonably good looking and physically strong young man.
"He was brimming with confidence and had the capacity to be an engaging flirt and a ladies' man.
"But if he did not have his own way, he had the capacity to become violent very quickly.
"He used this violence to force young women into submission or simply have his way with them."
Mr Khalil, who outlined a series of attacks on women in the build-up to Miss McGrath's murder, said Mr Taylor had "escaped justice for too long".
After each attack Mr Taylor "turned the charm back on" - buying one of his victims an ice cream and a T-shirt to replace the one he had torn off, jurors were told.
The court heard Miss McGrath was last seen alive on 11 July 1979 at a Peterborough hotel with Mr Taylor.
Mr Khalil said that because of the passage of time, it was not possible to establish precisely how Miss McGrath died but she had suffered blows to the head.
Mr Taylor, who was jailed in 1980 after a burglary conviction, was questioned over Miss McGrath's death shortly after the discovery of her body but denied knowing her.
He became "obsessed" with reading newspaper reports about the search for her and wrote letters to his wife from prison asking her to burn his clothes, the court heard.
Police also questioned him in 1979 and 1980 over the sex attacks.
He was not charged with the offences until last year but was cleared of two alleged sex attacks in 1974 and 1979 at earlier trials.
The trial continues.