Cambridge University sheds light on illuminated manuscripts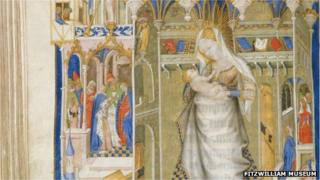 Conservators and scientists studying illuminated manuscripts in Cambridge say their work could help uncover ancient techniques used by artists.
The Fitzwilliam Museum worked with scientists at Cambridge University to analyse the composition of manuscripts.
Fibre optic and X-ray technology was used to analyse pigments and reveal sketches beneath the paintings.
The museum said it could provide insights into their production and help conservators repair "priceless" art.
The work forms part of a project called Miniare - Manuscript illumination: non-invasive analysis, research and expertise - intended to "bridge the gap between science and the arts".
'Unpicking art'
Team member Dr Spike Bucklow said: "Artists had a fantastic knowledge of how to get the effect they wanted from the pigments they used. How much they knew about why the materials worked is of great interest.
"This research will help to unpick the art of manuscript illumination."
The university's collection includes manuscripts from Europe, Africa and Asia dating from 1350 BC to the 19th Century.
Dr Stella Panayotova, keeper of manuscripts at the Fitzwilliam Museum, said art historians had speculated about how illuminated manuscripts were created, but much of the analysis was "circumstantial".
Using visual imaging techniques such as X-ray fluorescence could help identify how and where pigments were made and reveal artists' "under-drawings", she added.
Members of the team hope the current project, funded by the Isaac Newton Trust and a private sponsor, can be expanded to analyse all 2,000 manuscripts held at the Fitzwilliam Museum, and others at the university's library and colleges.
Miniare is a collaboration between the Fitzwilliam Museum, the Hamilton Kerr Institute, the university departments of chemistry, physics, history of art, history and philosophy of science, and the Victoria and Albert Museum.