Cambridge Tesco store attacks on elderly linked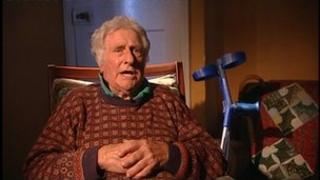 Thieves are targeting elderly and vulnerable shoppers at a Cambridgeshire Tesco superstore, police have warned.
On Friday an 83-year-old war veteran and an 89-year-old man were both robbed at the Bar Hill store.
Michael Saxby, 83, who was mugged in a disabled parking bay, criticised shoppers for not coming to his aid.
The police said both men were "clearly targeted victims". A Tesco spokesman said the company was "deeply saddened" and was helping with the investigation.
The first incident happened between 10:00 BST and 10:30 BST when cash was stolen from the 89-year-old.
Police believe a man snatched cash out of his hand before walking off with a woman.
'Extremely upsetting'
The second incident happened at around 11:35 BST when Mr Saxby was attacked as he returned to his car in a disabled bay close to the front of the store.
He was left with bruising to his back and hands when a man and a woman pushed him against his vehicle and stole his wallet.
The thieves later took £720 out of Mr Saxby's account which has since been returned to him by his bank.
The pensioner, who uses crutches after being injured by a landmine in the 1950s when he was an RAF medical orderly in Malaysia, said he called out for help but no-one came to help.
He said he was "appalled and terrified" as other shoppers walked past without coming to his aid.
Mr Saxby said he believes he was filmed on a mobile phone while paying for his groceries. The thieves later used his personal identification number to make two withdrawals from his account, he said.
Det Con Paul Thornton, from Cambridgeshire Police, described the thefts as "extremely upsetting for the victims" and appealed for witnesses.
Officers are also looking at CCTV footage in the hope of identifying the assailants.