Man 'living in a shed' in protest at Cambridgeshire planners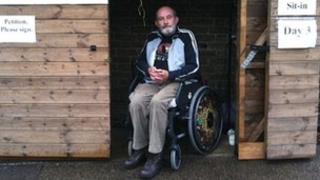 A man says he will continue to "live" in his shed in protest after a council in Cambridgeshire said it was built on highways land and must be removed.
Steve Redman, 57, who has multiple sclerosis and uses a wheelchair, built the shed next to his Willingham home.
The county council said he had admitted it was partially on council land and was given until 3 October to remove it.
A spokesman said an officer would visit Mr Redman - who says he moved into the shed a month ago - to discuss options.
The spokesman said the council had received a number of complaints that Mr Redman had erected the shed on land he did not own.
'Move in'
Mr Redman said he previously had a flower bed in the same spot "and no one complained about that".
The council issued him with a 28-day notice to remove the shed or said it would consider "enforcement action".
However, Mr Redman refused and said he would move into the shed, and handcuff himself to it rather than take it down.
He maintains the shed protrudes onto highways land "only by a couple of inches".
"I have no idea whether the council is considering court action or a JCB operation but I intend to stay in this shed whatever happens," Mr Redman said.
He said having MS did not affect his ability to "sleep in a shed as well as Joe Bloggs could".
The council spokesman added: "Mr Redman was given a deadline by which he should remove the shed but he has not done so.
"He will now be visited by a county council officer again who will talk through the remaining options, including removing the shed ourselves and recovering the cost of that work from Mr Redman."