Lola Cars International in Huntingdon ceases trading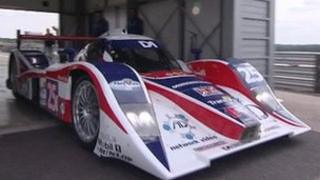 A Cambridgeshire race car maker, which went into administration in May, has ceased trading.
Joint administrators CCW Recovery Solutions said it failed to find a purchaser for Lola Cars International.
The 18 remaining staff at the Huntingdon plant were made redundant on Friday.
Lola Composites, also in administration, continues to trade but a further 23 staff have been made redundant.
'Unfortunate redundancies'
In a statement, the administrators said: "At the end of September, having not received an acceptable offer for the business as a going concern, we considered whether or not we should continue trading.
"We concluded that a going concern sale of the business was not going to be possible, and the company ceased to trade on 5 October, which unfortunately led to the redundancy of the remaining staff working in the business."
Lola Composites is continuing to trade while a purchaser is sought for the business as a "going concern", the administrators added.
Lola began trading in 1958, making sports cars for track events, including the Le Mans 24-hour race. It also offers research services to the defence and aerospace industries.
There have been 114 redundancies across both sides of the business since May.
In a statement the administrators said in total 55 jobs had been lost from Lola Cars and 59 from Lola Composites.
Ten people also moved to Composites, leaving 62 people working in the business.