Cambridge Tesco shoppers 'ignored pensioner mugging'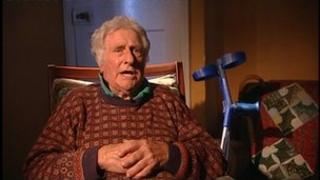 A decorated war veteran said he was "appalled and terrified" when no-one came to his rescue as he was mugged in a Cambridgeshire supermarket car park.
Michael Saxby, 83, was attacked by two people at about 12:00 BST on Friday at Tesco in Bar Hill. They took his bank card and £720 from his bank account.
Mr Saxby said: "If I was younger I would have helped someone in trouble."
A Tesco spokesman said the company was "deeply saddened" and was helping the police investigation.
He added Tesco wished Mr Saxby, who sustained bruising to his hands and back during the attack, "a speedy recovery".
The pensioner, who uses crutches to help him walk after being injured by a landmine in the 1950s when he was an RAF medical orderly in Malaya, said he had called out for help but no-one had come.
"I shouted at the top of my voice, 'Please help, please help', but people just walked on.
"I thought the man and woman might have a knife or a gun. I was absolutely terrified."
'Brushed away'
Mr Saxby was recognised by the Royal Humane Society in 1942 for saving a boy from a Cambridgeshire river and worked at Addenbrooke's Hospital in Cambridge for more than 40 years after leaving the RAF.
"I've helped people all my life, but no-one came to my aid.
"One woman did walk over but she was sort of brushed away," he said.
"I've always been very conscientious, especially as a younger man, even if it meant putting my own life in danger. I always helped people."
Mr Saxby said he believed he was filmed entering his personal identification number on a keypad in the supermarket by a woman using a mobile phone.
"That's the only way I can think of that they got hold of the number," he said. "I didn't give it to them."
Mr Saxby said his bank had told him the money would be returned to him.
The £720 was taken out of his account in two withdrawals "within minutes", he said.
A Cambridgeshire Police spokesman described it as a "callous attack on a vulnerable man".
"We know a number of people witnessed this incident and I would urge them to come forward and report what they saw," he said.