NFU critical of Peterborough solar farm on "prime" land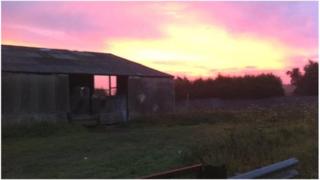 Plans to build solar farms near Peterborough could take "some of the best farming land in the country" out of production, the National Farmers' Union (NFU) has warned.
The city council is proposing to build renewable energy parks on three of its tenant-farmed sites.
The NFU said many of the 18 farmers who could be affected had contacted them.
Council leader Marco Cereste said a feasibility study was under way and it would "look to compensate" farmers.
He said the scheme, which could cover more than 3,000 acres (1,215 hectares) of council-owned land, could generate an income of between £90m and £137m, over 20 years.
'Odd tactic'
The proposal is part of Peterborough City Council's bid to address budget deficits.
But Peter Brewer, group secretary of Peterborough NFU, has criticised the measure as false economy.
"There are well-publicised grain shortages in France and America and this is some of the best farming land not only in the county, but the country," he said.
"It's Grade 1 or 2 agricultural land which is the best quality you can get.
"It will produce significantly more crops per acre than other land and it seems an odd tactic to take excellent farming land out of production at a time when food prices are going up.
"I appreciate the council has a deficit but I'm not sure this is the most viable way of plugging it," he added.
Mr Cereste said he was happy to discuss concerns but the feasibility study was not yet complete.
He added: "I do sympathise, but if it turns out that we need a farmer's land for energy production for the city, then obviously we will look to compensate him and try and make sure he's OK."
A council spokesman said it would have to give the affected tenants three months' notice.