Ex-husband denies Peterborough wife kidnap and murder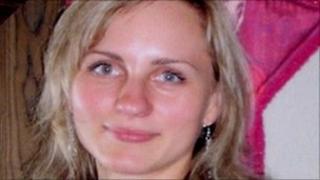 A Lithuanian woman was kidnapped on a Cambridgeshire street, killed and buried in Poland by a violent ex-husband, a court has heard.
Rimas Venclovas, 47, had been arrested twice by police in Peterborough over attacks on Vitalija Baliutaviciene, 29.
She was pictured on CCTV being abducted on her way to work at 05:15 BST on 12 August last year.
Mr Venclovas denies kidnap and murder charges and is on trial at the Old Bailey in London.
Miss Baliutaviciene's death followed a violent marriage and physical abuse which carried on after they were divorced, said Maureen Baker, QC, prosecuting.
Mr Venclovas was granted bail after the attacks but absconded to his native Lithuania each time.
He went to elaborate lengths to return to the UK undetected and kill the woman who had rejected him, it is alleged.
Miss Baker said CCTV shows Miss Baliutaviciene being overpowered and taken away.
'Destiny to be killed'
"Then she vanished until... a man picking mushrooms in a field in western Poland came across a shallow grave containing her remains," Miss Baker added.
"She died suddenly and violently as the result of manual strangulation.
"The prosecution say her former husband is responsible for both her abduction and murder."
The court heard he had tried to strangle her twice in the year before she died.
After fleeing to Lithuania and returning on the first occasion, the Crown Prosecution Service had decided he would not be charged.
"Subsequent events have called that decision into question," added Miss Baker.
In February last year, he attacked her again and began to strangle her.
"He told her she would be buried. He told her her destiny was for her to be killed by him."
To carry out this threat he changed his name and appearance and returned without detection, the jury heard.
The trial continues.