Paralympic cyclist Jody Cundy's Wisbech parade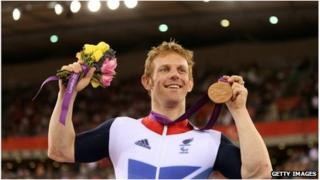 Cyclist Jody Cundy has been given a homecoming parade in Cambridgeshire to celebrate his Paralympics success.
The 33-year-old, who won a bronze medal in the 4km pursuit race, travelled through his home town of Wisbech in a vintage fire engine.
The day-long parade, which ended at 16:00 BST, included visits to six local schools and a civic reception.
Town clerk Erbie Murat said: "Jody is an inspiration and the children can't wait to meet this 'man of our town'."
He added: "We made Jody a freeman of the town in 2010 in recognition of his Paralympian achievements, and we are so proud once again to honour him."
Cundy, who recently told the BBC he was considering entering the 2014 Commonwealth Games "to keep me motivated and entertained", travelled on board "Vivien", the town's heritage fire engine.
The vehicle was named after the wife of a former town mayor.