Celebrity socks auctioned for Free Kicks Socktober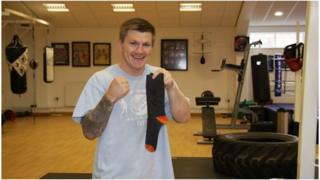 Celebrities have donated their socks to help raise cash for a Peterborough children's charity.
Free Kicks Foundation is auctioning the items every day on eBay throughout the month of "Socktober".
"We came up with the name in January and then had to find a way to involve socks," co-founder Steve Thorpe said.
Celebrities who have given their socks include boxer Ricky Hatton, journalist Alastair Campbell, footballer Fabio Borini and swimmer Ellie Simmonds.
"We think it's quite a unique idea that will really capture people's imagination. Charities ask for things like signed shirts all the time," Mr Thorpe said.
'Smelly socks'
"We just hassled celebrities and footballers on Twitter and got loads of responses.
"I've now got a drawer full of odd socks - clean socks, dirty socks - we've got the lot," he added.
"The majority of them had been washed first, but there are a few that have a bit of a used smell about them."
Alastair Campbell's socks, worn in a "legends" football match, comes complete with a signed copy of his autobiography.
Other signed sports memorabilia will also be included in the daily auctions.