Peterborough farmers fight council's solar panel farm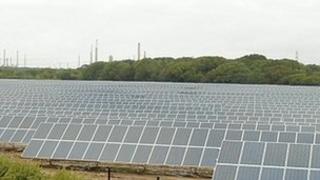 Farmers near Peterborough have launched a campaign against a council's plan to build solar farms.
Peterborough City Council is proposing to build renewable energy parks on three sites near the city.
Peterborough City Tenant Farmers' Association said at least 18 out of the council's 22 tenants would be affected, with fears some could lose their homes.
Council leader Marco Cereste said the scheme could generate an income of between £90m and £137m, over 20 years.
"This is a significant opportunity for Peterborough City Council to address the budget deficits that we like many other local authorities face," he said.
He explained the income would help "the future delivery of essential surfaces such as children's services and adult social care".
'Very distressing'
William Cave, of Eardley Grange Farm, said the scheme would cover 3,000 acres and "turn a country landscape into an industrial one".
"It's very distressing. This large scheme will go on top quality Fenland soil, producing high value crops such as sugar beet, potatoes and oil seed rape," he said.
"People will lose their livelihoods and homes. We've been politicised by this."
The campaign group has said the sites for development are at America Farm, Morris Fen and Newborough Farm.
The city council will begin a public consultation on 29 October, with a decision due to made on 5 November on whether to submit an outline planning application.
A council spokesman said it would have to give the affected tenants three months' notice.