Paralympic sculling dreams of intravenously-fed woman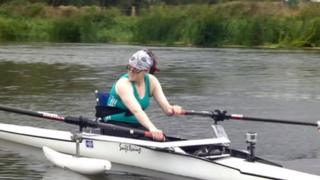 When Cambridge University student Claire Connon was forced to give up a promising rowing career through illness, she was convinced she would never pick up an oar again.
But seven years later, at the age of 26, Miss Connon, who has to be fed through a tube and uses a wheelchair, has been tipped for the 2016 Rio Paralympics by her British Rowing coach after taking to the water again just a few months ago.
Miss Connon, who lives in Cambridge, has Ehlers Danlos syndrome. It affects her joints and digestive and neurological systems.
Since her doctor introduced her to a new method of delivering food to her body - parenteral nutrition - that takes vitamins, minerals and essential nutrients directly to her heart, she says she has found renewed energy.
Miss Connon is now back in training in an adapted boat in Oundle, Northamptonshire, with her sights set on the Rio games.
"I rowed for Robinson College, Cambridge, when I was studying geography," she said.
"I was accepted for the development squad and intended to trial, but then I became so unwell at the start of my second year that I had to give up rowing, using any energy I had for university work."
'Life-changing'
Miss Connon was initially diagnosed with gastric dysmotility, where the muscles of the digestive system do not work properly.
She was later rediagnosed with Ehlers Danlos and doctors began trying different nutrition methods.
"Now, I want to be the first intravenously-fed Paralympic champion," Miss Connon said.
"This is what I should be doing in life. I went to see the victory parade and it was just amazing to see all the athletes, the crowds supporting them, and to look at the athletes with their gold medals.
"I just want to be there. It's what I want to do."
She described parenteral nutrition as "invasive but life-changing" for her.
"I am hooked up to my line and pump for 12 hours every night, but I now have enough energy to train in the swimming pool and in the gym most days of the week and travel to Oundle to train," she said.
Before trying the new treatment Miss Connon had to be fed liquid nutrition through a tube into her small intestine. However, her digestive system was unable to cope with the food and she became more seriously ill.
"The support of my local PINNT group in Cambridge - Patients on Intravenous Naso-gastric Nutrition Treatment - at this point was absolutely critical," she said.
'Amazing woman'
Sylvia Cottee, co-ordinator of the East Anglian branch of the charity, said: "Artificial nutrition treatment, though frequently life-saving, can be challenging regarding its impact on everyday life.
"It can take a while for the individual and their family to adjust to the complex technology and the lifestyle changes."
However, Miss Connon said the new feeding regime and the support of the charity had spurred her on to qualify for the 2016 Paralympics and to train to be a doctor.
Within six weeks of taking up rowing again, Miss Connon achieved first place at a sculling event in the arms and shoulders individual rowing category in Llandaff, and was second in the Home Nations International Rowing Regatta in Cardiff Bay in July.
Her adaptive rowing coach at Oundle Town Rowing Club, Harriet Griffin, who works for British Rowing, said: "Her enthusiasm outweighs any other athlete I have met and her dedication is second to none.
"She is an amazing woman with incredible potential to even push towards Team GB and the Rio Paralympics.
"I just hope Claire remembers me when she's on that podium."