Louis Smith sculpture: Farmer donates Cambridgeshire field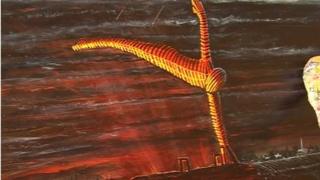 A planned sculpture of Olympic gymnast Louis Smith could become a reality after a Cambridgeshire farmer agreed to have it on his land.
Artist Derek Massey, from Ramsey St Mary's, has been planning the sculpture of Smith on a pommel horse since 2009 but had nowhere to put it.
Stephen Parsley has agreed to host the tribute, which will be about 30ft (9m) high, on his land at Woodwalton.
Mr Massey still needs to raise £200,000 and obtain planning permission.
The sculpture was initially going to be made from steel but would now be carved from oak.
'Olympian task'
Mr Parsley said: "Wood is very much a natural feature of the landscape here - we'd create a pond with an island in the middle that the statue could stand on."
Mr Massey said he was now optimistic the statue of the Olympic silver medallist could finally be made.
"It's been an Olympian task to get this thing done," he said. "Four years on and I was beginning to think we're never going to see this.
"But now, through Stephen's intervention, I am now in a position to say it is a possibility that we can make this and get it built.
"It fits into the environment and it fits into the region like a glove as both an historic statement and as something to inspire the next generation of children."
Jason Ablewhite, leader of Huntingdonshire District Council, said the idea of the statue was "fantastic" but stressed that it would have to be sympathetic to the local surroundings.
"We're very open to the suggestion and would welcome the chance to chat through any ideas and sit down and listen to what they have to say," he said.
Smith, from Peterborough in Cambridgeshire, took silver on the pommel horse and bronze in the team event at the London 2012 Games.