Sibson airfield: Skydives resume after parachute death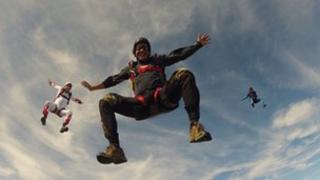 A Cambridgeshire parachute centre where a man died in a skydiving accident and another was seriously injured has been cleared to reopen.
Wine merchant Patrick Sandeman, 53, from Putney, south-west London, was killed and another man is in hospital following the accident on Saturday.
The accident, at Sibson Aerodrome, near Peterborough, is being investigated by the British Parachute Association.
It said jumps could now resume at UK Parachuting, based at the airfield.
Mr Sandeman and another parachutist, a man in his 20s, collided in mid-air about 50ft (15m) above the ground at about 15:30 BST.
The other man was taken by air ambulance to Addenbrooke's Hospital in Cambridge with spine and leg injuries but Mr Sandeman was declared dead at the scene.
He was co-founder of Lea & Sandeman, which began in 1988 and has four shops in London.
'Devastatingly handsome'
Mr Sandeman's business partner, Charles Lea, said he was a "very experienced skydiver".
Wine critic Jancis Robinson, who writes for the Financial Times, paid tribute to Mr Sandeman, saying "a very bright light has been extinguished".
"I'm sure I'm not alone in having found Patrick one of the most appealing and entertaining characters in the wine business," she wrote on her website.
"A total ornament to the British wine trade, he was a member of the Sandeman family of port and sherry fame, managing to be devastatingly handsome but not intimidatingly so. Charming but not oleaginous. Well informed but engaging.
"Our very deepest condolences to his equally delightful wife Katy and their children."
Cambridgeshire Police said the investigation would be handled by the British Parachute Association, the sport's governing body, on behalf of the coroner.
The BPA said it had instigated a board of inquiry to investigate the accident.
Officials visited the airfield on Saturday and Sunday, but have now given UK Parachuting permission to re-open.
It said a report would then be sent to the Civil Aviation Authority, the police and the coroner, as well as its own safety and training committee.
Reports into fatal investigations were given priority and typically took two to three weeks to produce, it added.
Tony Butler, the BPA's technical officer, said: "Two parachutists collided and their parachutes entangled. It just looks like a tragic accident. Both were experienced parachutists.
"We send our sympathies to all the gentlemen's family and friends."
He said parachuting had a good safety record, with about 250,000 jumps made each year in the UK and an average of one of two fatal accidents a year.
Sibson Aerodrome has been home to a parachute centre since 1971 and was one of the first civilian drop zones in the country, according to UK Parachuting's website.