Ely bypass: Council selects 'value for money' route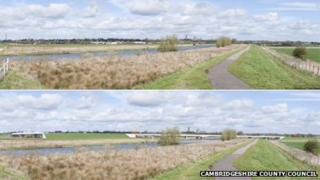 A £30.7m bypass cutting through Cambridgeshire countryside has been chosen by a council despite claims it would spoil the view of a cathedral.
Cambridgeshire County Council said the one-mile (1.7km) road south of Ely offered the most effective and value for money traffic solution.
But English Heritage said the road's location would cause severe harm to the setting of Ely Cathedral.
Plans are due to be submitted next year. The road could open by 2015.
The council is looking to borrow money to pay for the scheme, but would also consider other sources of funding including Department for Transport grants.
Five options were considered by the council, including a £30.8m underpass, two separate bypasses and a traffic stacking system.
The route selected would improve traffic flow between Angel Drove and Station Road, the council said.
Ian Bates, cabinet member for growth and planning at the Conservative-run council, said: "Ely has waited 10 years for this."
He added the route was the "most effective in relieving congestion" and "provides the best value for money".
'Unrivalled supremacy'
The council said the exisiting "traffic bottleneck" in Ely would have become a greater problem with increasing use of rail networks through the area.
The railway crossing at Ely railway station is currently closed for about 35 minutes an hour, and this was expected to rise to an average of 40 minutes an hour when the line is upgraded.
English Heritage, which objected to the choice of route, said the single carriageway road would damage the city's 900-year-old cathedral.
In a letter to the council, it said the construction would "challenge the cathedral's hitherto unrivalled supremacy in the landscape" and "sever the current close relationship of the cathedral and city to the adjacent Fens".
Campaign group Ely Crossing Action has called for an alternative traffic solution to be put forward.
Liz Hunter, for the group, said: "The option the county council has chosen crosses both the river and the railway on huge 10m high embankments."
The group backs a "hidden road", including a tunnel under the railway line.
The council said a public consultation had begun.