Jonnie Peacock 'not sure' where he wants gold postbox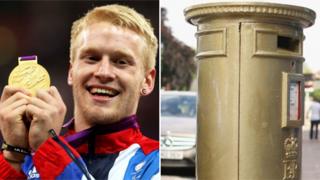 Paralympic sprinter Jonnie Peacock said he was delighted to hear that a postbox would be painted gold in his name, but admitted he did not know where he wanted it located.
The T44 100m gold medallist from Cambridgeshire said he had family links with Shepreth, St Ives, Cambridge, Huntingdon and Doddington.
The 19-year-old said: "I'd like to have one, but I don't know where I want it."
The Royal Mail said a box would be painted once he had made up his mind.
The village of Doddington is claiming Peacock as its own, as his mother and stepfather live there.
'Strong team'
"I don't know if they might move soon though, because the house is big and all the kids are starting to move out," Peacock said.
"I grew up and went to secondary school in St Ives and have a lot of memories of there and I've got a lot of memories of Cambridge, as well.
"I've always loved Cambridge," he added. "On a hot day that city is one of the most beautiful places I've been in my life."
When suggested that Peacock had become the "face" of the Paralympics, he said: "Oh, I can't believe that.
"There are so many amazing guys in the team and it's just an honour to be with them.
"It's such a strong team we've put out and I don't think I could see myself as 'the face'."
Peacock sprinted to victory in the 100m on Thursday evening to claim the gold medal that entitles him to have a gold-painted Royal Mail postbox in his home town.